Chevy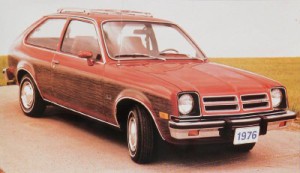 Last week on my drive back home from  some errands, I spotted a tiny car pulling out of the lot at the super market. Normally I don't pay much attention to specific makes or models of cars. But I admit, this one caught my eye for a couple of reasons. First, it was a little Chevy Chevette. Second, a little old lady was driving it.
I'm not one to be nostalgic, but in my family when I was growing up, we were a chevy family. Dad always bought American and always bought Chevy. I couldn't exactly tell you why. I do know that the very first car my dad bought after graduating from college was a Chevy Corvette. Perhaps that was one of the things that drew my mom's attention to him, who could say for sure. I know that our family had various cars over the years, but every single one was a Chevy. There was the Corvette, the Bel Air, the Impala, the Citation and the Cavalier.  
What is it about a car that makes it almost part of our home, and definitely a piece of our history. We take lots of little drives, off to school, practices, church, and family and friend's homes. Then there are the long drives to visit family, to take vacations, to road trips just for kicks. Something about seeing that little Chevy Chevette sparked a few happy memories for me. The car I learned to drive was the Chevy Citation – not exactly an elegant looking car, but it sure took me to plenty of fun spots with friends.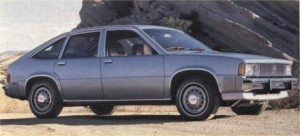 No, I never had a chevette, but the lyrics to a totally amusing song by Audio Adrenaline, leave me feeling the same as the writer.  
Chevette
Twenty years ago I watched in awe
as my Dad drove up the driveway.
More than proud to have a brand new family car.
Thirty miles to the gallon
0 to 60, sometimes.
I remember putting down the back seat
and lying in the hatchback.
Looking at the sky watching trees go by.
I was the son of a preacher
and he was a rich poor man
no a.c.
and no FM
and no regrets
in my Chevette
yeah
in my chevette
The winter cracked the highway
and we tried to dodge the pot holes.
He never promised us it would be a gentle ride.
He never had a problem though,
keeping it on the narrow road.
no a.c.
and no FM
and no regrets
in my Chevette
yeah
in my chevette
yeah
in my Chevette
yeah
in my chevette
poor thing is up on blocks
but that car still
Rocks
seems like yesterday
(seems like yesterday, seems like yesterday)
my chevette
yeah
in my chevette
yeah
I had no a.c.
in my chevette
had window cranks
in my chevette
had vinyl seats
in my chevette
in my chevette
and no regrets
in my chevette
My chevy citation had no a/c, no FM, and looking back, no regrets.  What about you…do you have fond memories of the car you first learned to drive?  Or am I just nuts?