Trains
This morning Quin woke up and was playing in his room as is becoming more usual since he moved to a toddler bed. After a bit, we heard him saying "Train! Train!" and "Choo-choo!" — again, not unusual to hear while Quin plays. He has several toy trains (mostly of the Thomas the Tank Engine variety) that he likes to play with.
When I checked on him, I found this scene.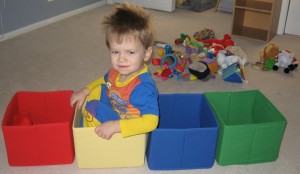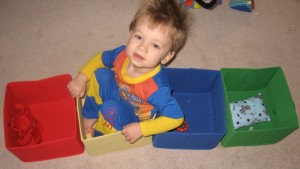 I guess this is what you get when you watch "The Polar Express" before going to bed. There were also cries of "All aboard!" which is definitely new.
He was talking about his freight cars and in the second photo you can see that he had put some things into his cars as well.