The 1-Player panel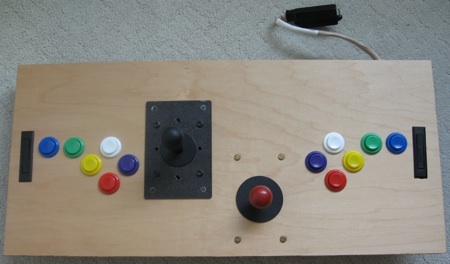 This is really the work-horse panel of my machine. Most of the games that I really enjoy were of the style where 1 player plays at a time and then the second player (in 2-player games) takes a turn when the first player's turn ends (from dying, crashing, etc.). Games like Pacman (and all the maze-game spinoffs), Donkey Kong (and other platformers), Space Invaders (and all the 2-D kinds of shooters), and even games like Qix, Berzerk, etc.
It has two joysticks, but they're both wired up as the "player 1 control". In other words, it doesn't matter which one you use, the game will still respond. The black joystick is an 8-way digital stick, while the one with the red ball on top is an original arcade 4-way stick from an old Pacman cabinet (thank you ebay!). Some games play a lot better with a true 4-way stick (Pacman, Donkey Kong, etc.) than if you attempt to play them with an 8-way stick.
The button layout is one that I spent a long time planning and thinking about. I wanted a layout that lends itself to as many games as possible. While a lot of games just require a button or two, some games require more. And I wanted the button arrangement to be somewhat natural for as much of a cross-section of gaming as I could make it. There are six buttons, four of which lay out naturally around where you might lay your hand on the control panel. The other two buttons (purple and white) are there really to provide a diamond layout of buttons for games like Vanguard.